Shandur Top (el. 12,200 feet (3,700 m)) located in District Ghizer, Gilgit-Baltistan in Pakistan. Shandur-Top in Shandur is often called the 'Roof of the World'. The top is flat, a plateau and can be crossed between late April and early November.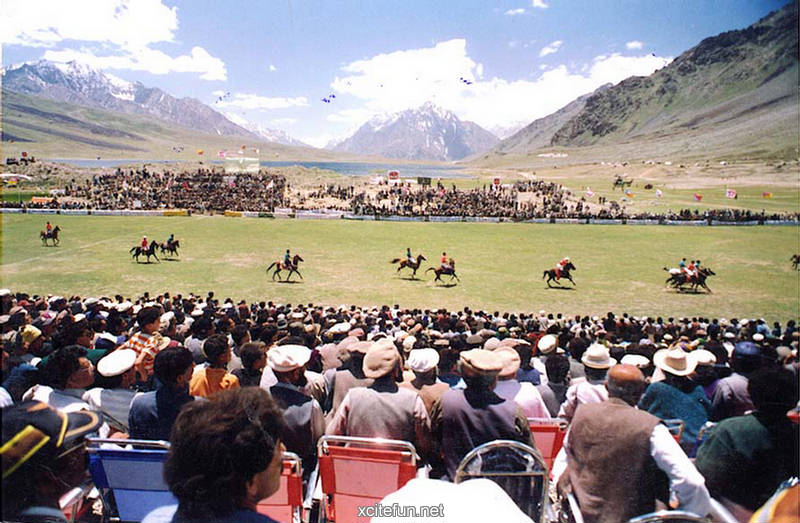 Every year there is a Polo match played on Shandur Top between the home teams of Gilgit-Baltistan and guest teams from Chitral.
Shandur Pass is one of the major mountain passes between Chital and Gilgit-Baltistan. Shandur invites visitors to experience a traditional Polo tournament which since 1936 has been held annually in the first week of July. The festival also includes performances from Folk Music Artists, dancing and a camping village is set up.
Now it has become a popular place for tourists. The three day Shandur Polo Festival has developed steadily in recent years into the massive celebration of mountain polo that it is today.
Traditional Attan Dance
Historically, Polo being the king of games was played between small kingdoms, villages and rival groups of Gilgit Agency. From 1936 onwards polo tournaments were held annually at Shandur (then part of autonomous princely state of Kashmir) at the patronage of the British from neighboring India.
Polo is an Equestrian sport with its origin embedded in Central Asia dating back to 6th century BC. At first it was a training game for cavalry units for the King's Guards or other elite troops. To the warlike tribesmen who played polo with as many as 100 players to a side, it was a miniature battle. It became a Persian national game in the 6th century AD. From Persia, the game spread to Arabia, then to Tibet, China and Japan.